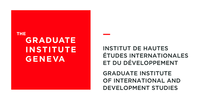 Graduate institute
The Graduate Institute of International and Development Studies is an institution of research and higher education dedicated to the study of world affairs, with a particular emphasis on the cross-cutting fields of international relations and development issues.
Through our core activities, we aim to promote international cooperation and make a contribution to the progress of developing societies. More broadly, we endeavour to develop creative thinking on the major challenges of our time, foster global responsibility and advance respect for diversity.
We are a cosmopolitan community located in the heart of Geneva, an international city and a centre of global governance. By intensely engaging with international organisations, NGO's, governments and multinational companies, we participate in global discussions and prepare future policy-makers to lead tomorrow's world.

DiploFoundation
DiploFoundation is a non-profit foundation established by the governments of Malta and Switzerland. Diplo works to increase the role of small and developing states, and to improve global governance and international policy development.
Diplo does this by providing capacity development programmes in areas such as Internet governance and multilateral relations; using and developing tools for e-participation in global governance, including remote participation in international meetings and social media for global negotiations; training officials (including diplomats and others involved in international relations) from small and developing countries; providing specialised and effective academic programmes for professional diplomats seeking cost-effective but high-quality training in both traditional and contemporary diplomacy topics, and strengthening participation of non-state actors – including those from academia and civil society – in international relations and policy processes.

Geneva Center for Security Policy
The Geneva Centre for Security Policy (GCSP) is an international foundation that was established in 1995 under Swiss law to "promote the building and maintenance of peace, security and stability". The GCSP was founded by the Federal Department of Defence, Civil Protection and Sports in cooperation with the Federal Department of Foreign Affairs as a Swiss contribution to Partnership for Peace (PfP).
GCSP's core activity is the provision of executive education and training in comprehensive international peace and security policy for mid-career diplomats, military officers, and civil servants from foreign, defence, and other relevant ministries, as well as from international organisations. Participants in GCSP courses come from countries of the Euro-Atlantic Partnership Council, NATO's Mediterranean Dialogue, the Istanbul Cooperation Initiative, and beyond, including South and East Asia and Africa. In addition to its three long-term courses (each lasting from three to nine months) offered in Geneva, the GCSP also offers tailor-made courses in Geneva, New York City, Dakar, Amman, Baku, Addis Ababa, Yerevan and Sarajevo.
GCSP's work focuses on regional development, emerging security challenges, leadership, and crisis and conflict management.

United Nations Institute for Training and Research
The United Nations Institute for Training and Research (UNITAR) provides innovative learning solutions to individuals, organizations and institutions to enhance global decision-making and support country-level action for shaping a better future.
UNITAR was created in 1963 to train and equip young diplomats from newly-independent UN Member States with the knowledge and skills needed to navigate through the diplomatic environment. Over the years, UNITAR has acquired unique expertise and experience in designing and delivering a variety of training activities. We have become a leading institute in the provision of customized and creative learning solutions to institutions and individuals from both public and private sectors.
With a strategy fully focused on achieving the Sustainable Development Goals (SDGs), UNITAR supports Governments to implement the 2030 Agenda.
We transform mindsets by offering learning, analytical and capacity-centred solutions for a more sustainable world. We launched a new four-year strategic framework, covering 2018-2021, which is aligned with the 2030 Agenda and uses the Sustainable Development Goals as the guiding principle for our work with the strategic objectives organized around four out of five thematic pillars of the 2030 Agenda (Peace, People, Planet and Prosperity).
In addition to the four thematic pillars, the cross-cutting nature of our work on strengthening multilateral diplomacy, promoting the 2030 Agenda, and delivering applied research solutions through technology and data (UNOSAT) contributes to delivering our products and services in all pillars.
UNITAR provides training and capacity development activities to assist mainly developing countries with special attention to Least Developed Countries (LDCs), Small Island Developing States (SIDS) and other groups and communities who are most vulnerable, including those in conflict situations.